Yellowbox Lockers
+61 426 292 533
.(JavaScript must be enabled to view this email address)
www.yellowbox.app
Level 1, Hilmer Building (Gate 2 Ave)
High Street
Kensington NSW 2052
AUS
About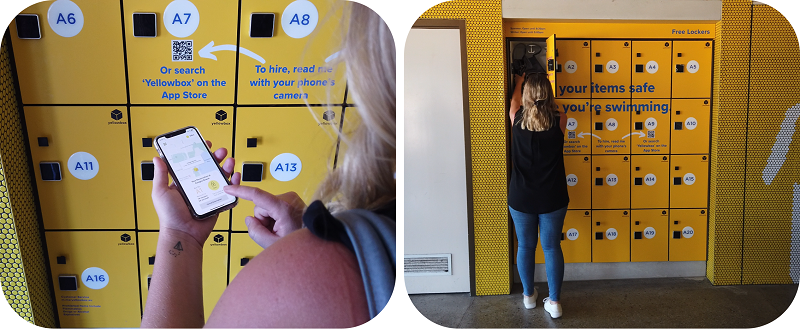 Yellowbox is an Australian technology company that has developed smart locker technology operated through an app with a focus on experience for users and facility managers. Found at Beaches, Aquatic & Leisure Centres and Entertainment Venues, Yellowbox provides:
• App based optimal aquatic experience with the ability to store your phone and be truly hands-free, meaning no management of keys, cards or bands.
• Data visibility and locker control through Managers App with quarterly usage reports.
• Self-serve experience for users with customer service support, ensuring staff do not need to tend to the lockers.
• Ease of installation options, including retrofitting existing lockers or new installation with joinery.
• Monetisation and Revenue Share through the yellowbox app, as a cashless experience.
• Battery operated (lasting a year), means that lockers are not restricted to an electricity outlet.
• Hardware is aesthetic and water resistant, with material (High Pressure Laminate) made for harsh aquatic and marine environments e.g. beach and aquatic centres.
• Continuous upgrades to meet special circumstances, e.g. COVID measures have been implemented to reduce shared touch points, with users automatically assigned the locker that has been idle the longest.
To find out more go to yellowbox.app/locations/leisure-facilities
Click here to contact Yellowbox.