LIFE FLOOR (Aus & NZ)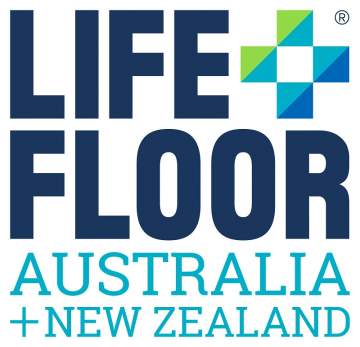 1300 721 135
0459 169 769
.(JavaScript must be enabled to view this email address)
www.lifefloor.com.au
PO Box 6029
Cromer VIC 3193
AUS
About
Our team believes floors should be beautiful, comfortable, and engineered for safety, even when wet.
Life Floor tiles meet six unique performance based standards: slip-resistance, impact absorption, chemical resistance, UV resistance, cleanability, and impermeability.
The First Splash Pad Surface in the World Certified by NSF/ANSI 50
The New Standard
In 2019, after four years of research, testing, and careful deliberation, NSF/ANSI 50 has created a new standard for splash pad surfaces. Life Floor is proud to be the first splash pad surface in the world to be certified to this new standard!

Amazing Slip-Resistance
Slip-and-fall injuries are a challenge for anyone around water. That's why Life Floor tiles feature incredible traction. They're slip-resistant without being abrasive, and cushioned for bare feet. Unlike coatings and sealants that need to be periodically reapplied, Life Floor's traction will last the entire life of the tile.
The Australian Pendulum test of Dry Life Floor resulted in a PTW of 119, and Wet Life Floor resulted in a PTW of 66. This shows Life Floor is significantly more slip-resistant than broomed concrete. Even at a 35 degree angle, our testers are still sure-footed on Life Floor.
Comfortable Impact Attenuation
Life Floor is certified to EN-1177. Our 3/8" tile (10mm) has a critical fall height of 300mm, but most eggs won't break when dropped from 3 ft above. And our 7/8" or 22mm has a critical fall height of 1.1 metres. But by layering Life Floor tiles, we can achieve fall heights greater than 1100mm no problem. Seriously. Order Samples and try it.
Most importantly, Life Floor tiles are comfortable for bare feet, elbows, hands, and knees. Our tiles are used in areas where kids play and adults relax, which is why we've designed our surfacing solution to be soft and temperature stable.
Incredible Durability
Life Floor is made from a closed-cell foam, which means it will never absorb liquids, harbor bacteria, or support microbial growth. In fact, our tiles experience a 99.9% reduction of bacteria after being sanitized, including the joint areas between tiles.
Life Floor also remains slip-resistant and impact attenuating after undergoing exposure to high chemical shock periods and UV light exposure without showing signs of erosion.
Unlike ceramic or painted depth markers, our tiles retain colour contrast and visual clarity after chemical and UV exposure. This means that our flooring solution lasts after years of exposure to common aquatic elements like the sun and treated water. Just ask our customers in Dubai and Australia Zoo.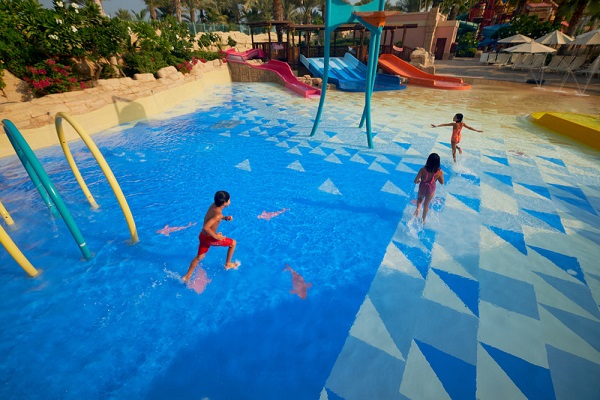 Life Floor at Aquaventure, Atlantis The Palm, Dubai.
"It's been amazing. You can see that guest appreciate it when you see them staying inside the play area for prolonged periods of time, especially when they are sitting in the pool and playing with their kids. The 'softness' of the flooring is very inviting and has really allowed families to stay together and enjoy the entire area as one. Kids can run through the area without worry of slipping and tripping and really be more interactive with all the elements and each other."
Aquaventures Waterpark, Atlantis The Palm, Dubai
"After undertaking a lot of research to determine the most suitable surface for kids to run around on for our Laughing Frog Water Park, we decided on Life Floor.
"It was our view that a non-abrasive foam rubber surface would be far safer for our guests; and for us, safety is always our first priority.
"Our water park is proving to be incredibly popular with our patrons. Children and their parents love the new addition to Australia Zoo".
Brian Dore, Director of Operations, Australia Zoo
Design Studio
Along with unparalleled safety, Life Floor offers every customer the opportunity to create a beautifully designed aquatic space. Whether you're modifying a current design, creating a new one from scratch, or ready to specify Life Floor for your next project, the Life Floor Studio department is here to help. Look around at our product options, design inspiration, technical documents, and examples of how Life Floor has already delighted guests across the world.
We've carefully selected our colour palette to meet the unique needs of aquatic facilities (and we may have thrown in a few more colours, just for fun). No matter what, our tiles last in extreme hot and cold conditions both indoors and outdoors. For maximum comfort, we suggest our lighter colour tiles for outdoor use.
Our Studio team always encourages customers to use 3 or more colours in any given application. Multi-coloured floors simply look better and are easier to maintain. The more colour and pattern a surface has, the more appealing it is and the harder it is to spot dirt and wear. View our curated themes and patterns for design inspiration.
Shapes
Life Floor is manufactured as 24" (610mm) square tiles that can be cut, arranged, and rearranged to create a remarkable number of designs, including rectangles, triangles, and curves.
Have a specific narrative in mind? Use design inlays from our library or create custom shapes of your own to add theming to a facility. Through countless different configurations and colour combinations, our tiles enable a wide range of opportunities to create beautiful environments with unparalleled safety. Our standard shape offerings are listed below, with many more on the horizon.
Squares
Our square tiles can be arranged in randomized multi-color fields to evoke environmental elements like sand and water. They can also be arranged in colorful gradient patterns using a range of tones from our palette. For a more classic design, squares look great when arranged in a checkerboard grid. For a more modern effect, square tiles of the same color can be installed consecutively to form long, rectangular configurations. Some facilities have even opted for a staggered zig-zag effect. While the original shape of our tiles may be simple, it is filled with the potential to create both beautiful and cost-effective design solutions.
Triangles
By simply cutting our tiles in half to form right triangles, we've created a world of new design opportunities. These tiles have been the most popular choice when creating gradient effects, especially when mimicking coastlines. They're also an excellent choice when adding accents of colour around a facility. For a more geometric approach, mirrored triangles can be arranged to create an even larger pattern.
Rectangles
Our rectangular tiles present the opportunity to design with a popular 1' x 2' grid or to create long plank effects by aligning tiles of the same color in a row. They enable designers to create more modern, geometric patterns and, like our other shapes, rectangles can be arranged as gradients or they can be used to break up solid fields of color with bright accents. Try varying the rotation of these tiles to achieve a really dynamic look.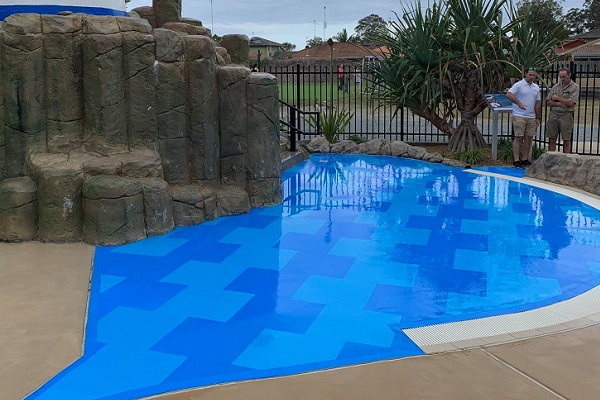 Life Floor shapes at BIG4 Tweed Billabong Holiday Park, Queensland
Hexagons
In 2019, Life Floor unveiled the newest addition to its shape collection: the hexagon. Our Studio team loves how this playful, geometric shape transports visitors to colourful landscapes with intricate and delightful patterning. Our team would especially like to thank and acknowledge the City of Grapevine, Texas, USA who became design pioneers with the first hexagon installation!
We're still experimenting with hexagons, and we]re looking forward to seeing what our partners come up with, as well. What we do know is that the hexagon's additional sides add immediate visual complexity to any space, without the need for additional design work or custom cutting.
Hexagons lend themselves to radial designs, and thus are perfect for splash pads.
Inlays
Inlaid shapes provide an extra touch that adds visual interest to aquatic environments and reinforces branding. Below you will find Life Floor's always expanding library of pre-designed inlaid options, including several shapes that match our aquatic themes.
Inlays can be made in any colour and at virtually any size. We can put several of one shape in a single tile, or blow a shape up to cover several tiles. The possibilities are endless.
We're always adding to our catalogue of inlaid shapes. If you don't see something you want for your design, let us know - our designers can almost definitely make it.