LES MILLS ASIA PACIFIC
02 6282 8192
.(JavaScript must be enabled to view this email address)
www.lesmills.com.au
PO Box 3998
Manuka ACT 2603
Australia
About
Les Mills Asia Pacific
Les Mills Asia Pacific have been setting the benchmark for providing professional fitness solutions across Australia and South East Asia since 1996. Our world renowned pre-choreographed programs offer a complete fitness solution including choreography, music, education, and equipment to create an elite group fitness studio and small group training offering in your facility.
We provide industry research findings, business training and one-on-one consultations to ensure you are continually growing your membership as well as retaining existing members. Select from Group Fitness, High Intensity Interval Training and Youth Fitness to ensure your members keep coming back.
"Les Mills participants attend their facilities twice as often as other members." – AC Neilson, 2014.
Please contact +61 2 6282 8192 or licensing@lesmills.com.au for more information.
See also Les Mills SMART TECH and Don Oliver for equipment solutions.
SMART TECH
SMART TECH, Les Mills' elite group fitness equipment, will transform your facility, offering ergonomically designed and tested barbells, weights and steps.
SMARTBAR™ is the preferred barbell for BODYPUMP® and GRIT™ participants due to it's comfortable design, quick weight plate transitions and rotating ends to reduce stress on wrists. SMARTBAR™ is the safest product on the market, with square plates which prevent the bar from rolling away.
SMARTSTEP™ delivers an interlocking stable deck which can be picked up as a unit, allowing members to lie comfortably and leap confidently. SMARTSTEP™ is the safest and most preferred step due to its stability, shock absorbing design and non serrated platform surface.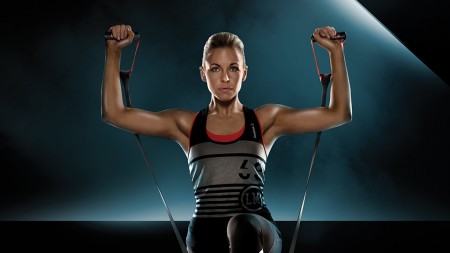 The SMARTBAND™ is a durable and functional resistance band. This new innovation in resistance band technology is scientifically-engineered to deliver a consistent force increase throughout the extension range. This helps to ensure correct technique is maintained throughout the exercise movement range. As a result, users can confidently execute resistance exercises and get more from their workout. Traditional bands are made from extruded latex/rubber and are prone to tears and snapping. Made from an injection moulded thermoplastic elastomer, the SMARTBAND is designed to withstand the intensity and flexibility of modern functional training.
Contact us on +61 2 6282 8192 or equipment@lesmills.com.au for a quote.
Don Oliver
Don Oliver Fitness Equipment, is the original BODYPUMP® barbell, updated for the functional training of today. Designed with the member in mind, Don Oliver utilises plastic plates as they are quieter, rotate better and cause less wear and tear on the bar and floor than metal on metal. Les Mills provide bars, racks, and a selection of weights and accessories, available for immediate shipping.
Contact us on +61 2 6282 8192 or equipment@lesmills.com.au for a quote.