GUNNEBO
02 9852 0762
.(JavaScript must be enabled to view this email address)
www.gunnebo.com/en
9/16 Lexington Drive
Bella Vista NSW 2153
Australia
About
Gunnebo is a global provider of security and access control solutions and services with sales companies in 31 countries in Europe, the Middle East, Africa, Asia, the Americas and Australia.
Gunnebo's entrance and security solutions allow facilities and venues to control the movement of people into, out of and around a site while blending into the design of the building to create an entrance area which welcomes the visitor.
Choose from a range of entrance gate options:
• Speed Gates for fast throughput of people, efficiency and aesthetics in the main lobby
• Full-Height Turnstiles for access at unmanned entrances
• Half-Height Turnstiles for disabled access
• Tripod Turnstiles for simpler internal personnel access at sites such as canteens or carparks
• Interlocking Doors for high-security area access
The size and finish of Gunnebo's entrance security solutions can be highly customised so that the right balance between flow rate requirement, design and utilisation of space can be found.

Gunnebo's new QuikScan 'one-stop' admission control system provides integration with the major ticketing providers for large events and allows venues to print tickets on-site for smaller events.
QuikScan allows quick and efficient front gate control and is very easy to use with all ticket information is instantly recorded and can be scanned at the gate.
Gunnebo Australia General Manager- Entrance Control Laurie Mugridge states "our QuikScan software and patron admission devices are customised to your requirements.
"Functionality that was once only available for the larger venues is now available for everyone.
"We have developed a system that is fast, user friendly and now at a price point that is attractive to the smaller venues. Our R&D worked closely with Denso who invented the QR code to ensure we could provide extremely fast processing of 2D barcodes whilst still being able to scan traditional barcodes, ensuring a fast and smooth transition through the gates for all patrons."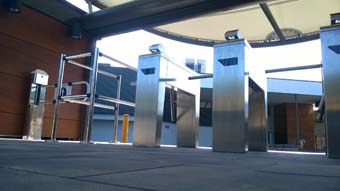 Patron validation is a key benefit to the new QuikScan system with the capability to display patron types on external screens.
Mugridge adds "we believe we are providing the perfect solution for all entertainment venues.
"This introduction is also timely as we can now work closely with venues that are refurbishing for the upcoming Commonwealth Games in 2018."
Gunnebo is also the sole authorised manufacturer, importer, distributer and service agent for the Chubbsafes range of Safes, Vaults and Data protection products in Australia and New Zealand.
Images shows QuikScan as installed at The Entertainment Grounds (the former Gosford Race Club).