Elite Pool Covers
1300 136 696
.(JavaScript must be enabled to view this email address)
www.poolcovers.com.au
PO Box 598
Balcatta WA 6914
Australia
About
Since 1989 Elite Pool Covers have designed and manufactured an extensive range of high quality affordable manual,semi-automatic and fully-automatic pool cover systems for the harsh Australian climate and sell these direct to the public meaning you save big dollars.
Elite Pool Covers has been providing the best possible Pool Cover Systems to customers all over Australia, and the world.
Our customer base includes Melbourne Sydney Peth Adelaide Brisbane and all regional areas
Elite covers Australia's top commercial swimming pools because their quality is second to none. The exact same quality fabrics that are used on commercial pools and for export are also available to you. For the best pool blankets, choose what the professionals choose..."ELITE".
Our philosophy is simple... to supply the public with the best pool covering systems, after sales service and all at the best possible price available anywhere - that's why we can give you this promise: "You won't find a better quality blanket or roller in Australia" - John Webb, Managing Director
Elite commercial grade blanket options
Elite Super Bubble Solar Thermal Blankets
The Elite Super Bubble blanket can be used to retain heat for indoor pools or to increase the water temperature in outdoor pools.
Elite Super Bubble pool blankets are formulated to last in Australia's harsh environment by using the world's latest manufacturing technology.
Elite Super Bubble pool blankets are proven to heat and insulate better than other solar blankets on the market due to their high absorbent dark colours and their large high 'R' Value bubble size.
All Elite pool blanket fabrics are made in Australia for Australian Conditions.
Elite Thermal Shield Blankets
The Thermal Shield range offers great insulation. It has proven the best for heat retention and prevention of water evaporation. Best used at night time when the ambient temperature is less than the water temperature. The Thermal Shield is opaque and has no solar gain. The 5mm Thermal Shield is the most thermal efficient blanket on the market due to its high 'R' value and its exclusive 'Air Cell' low water absorbing foam core.
Elite's exclusive Thermal Shield is the only blanket to have an AIRLON: Cross-linked closed cell polyofin foam core, with its unique tough double water resistant skin on the foam, plus AIRLONS unsurpassed thick cell walls that greatly reduces the amount of water absorption into the blanket, (water absorption in other blankets can increase a blankets weight by up to 100%, shorten blanket life and will reduce a blankets thermal efficiency). Thus costing you more over time in labour repairs and heating costs.
The new exclusive easy clean deep blue outer membranes are made to last from high UV resistant, extra high tensile strength, water/chemical resistant HDPE Synthesis woven membrane. For extra long life most Elite blankets are made reversible. (When pool shapes allow).
Note: The higher the 'R' value the greater the insulating performance resulting in greater savings. Tested to AS/NZ4859.1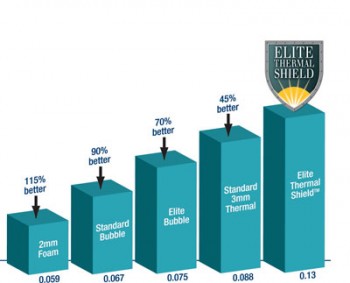 Blanket Buddy
Constructed from anodised aluminium and marine grade 316 stainless steel the Blanket Buddy reduces the time needed to cover and uncover the pool blankets. Along with this it cuts out OHS issues as it takes the manual handling out of operating the pool blankets and rollers. Great for 25m pools and a must have for 50m pools.
• Battery operated
• Variable speed so you can control how fast you wind the blankets on and off (A must for all units for safety)
• Less than 2 minutes for a 25m pool and just over 3 minutes for a 50m pool.(with no effort or injury)
• Comes with a heavy duty battery charger that is quick and easy to use.
Elite has 20 years of experience building motorised commercial systems and can safely state that our Blankets Buddy system is the best available and safest and easiest to use..
Commercial Roller Handles
Elite commercial roller handles can be used on most roller systems to give greater ease moving the rollers into place. The fully integrated, custom designed and built handles are manufactured from marine grade 316 stainless steel. The commercial roller handles offer staff an easier option to move the rollers while reducing OHS issues.
Elite Winter Cover
The Elite Winter Cover is becoming an essential tool to put your pool to bed during the off season. Made from Elite SuperMesh™, the cover acts as a security cover, leaf cover and it conserves chemicals and water. Just cover and forget the pool.
Elite Commercial Rollers
Semi-Commercial
The Elite Semi-Commercial Roller is a great way of storing smaller commercial pool blankets such as leisure pools, hydro therapy pools, motel pools, retirement centre pools etc.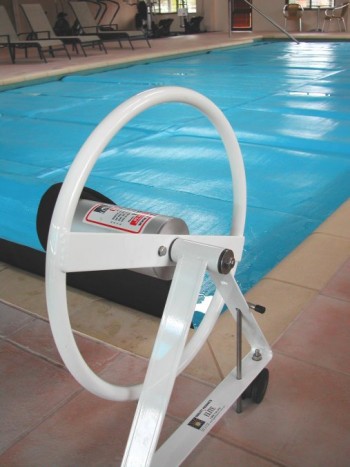 The Semi-Commercial roller is manufactured from heavy duty anodised aluminium and 316 stainless steel for the frames. It uses a 127mmØ x 3mm aluminium shaft and 25mm stainless steel axles.
Commercial Single Roller
The single roller is easy to manoeuvre due to only using one blanket per roller. The single roller comes in a 150mmØ shaft for a 25m pool blanket and a 200mmØ shaft for a 50m blanket. The 200mmØ shaft can be used for the 'top n tail' connection on 25m blankets i.e. two covers on one roller.

The single commercial roller is manufactured from extra heavy duty 10mm stainless steel for the frames. It uses a 150mmØ or 200mmØ x 3.25mm aluminium shaft and 38mm Unbendable stainless steel axles. The strongest roller system on the market.
Commercial Tandem and Triple Rollers
The Elite tandem or triple rollers have been designed to minimise storage space as there are two or three winding spools on each roller frame. Each spool is independently wound minimising operator effort. Great for indoor Centres or where storage space is an issue. The rollers are driven via Elite's exclusive detachable steering wheel system, which gives the Elite roller the lowest profile available, with the added benefit the patrons cannot tamper or rotate the rollers. These rollers also take far less storage space, thus making them less noticeable to patrons.
The tandem and triple commercial rollers are manufactured from extra heavy duty 10mm stainless steel for the frames. It uses a 150mmØ x 3.25mm aluminium shaft and 38mm stainless steel axles.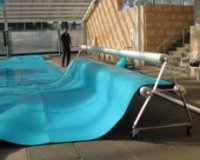 Commercial Hideaway System
Hide your pool blankets out of sight with the award winning commercial Elite Hideaway™ This custom designed and engineered system can be built as part of the pool plinth, or set in the pool deck behind the pool.The Elite Hideaway™ is best installed at the time of pool construction, or when renovating your pool.The Elite Hideaway™ Pool Cover system not only is aesthetically pleasing but it saves time, money and our most precious resource, water. The Elite Hideaway™ is manufactured from the finest quality materials available, and the lockable lid comes with a choice of non-slip inserts in a range of pleasing colours.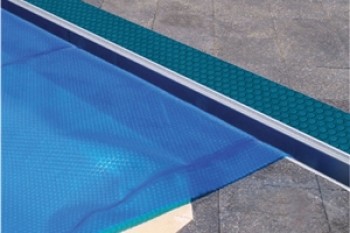 The Hideaway™ system is operated by the Elite Blanket Buddy System with very little effort.
• No more unsightly pool blankets around the pool deck, taking up valuable space
• Motorised operation - for ease of use
• Blankets will last longer due to no abrasion or UV damage
• Vandalism is minimised
• Can hold 25 metre and 50 metre bubble or thermal type blankets
• Designed and manufactured in Australia by Elite Pool Covers
• Cover up and save with Elite
A world first in the design of swimming pool blanket technology is about to be made available to aquatic facilities across Australia. The innovative technology promises enhanced energy…
read more
Since 1989, Elite Pool Covers have designed and manufactured an extensive range of high quality affordable manual,semi-automatic and fully-automatic pool cover systems that meet the…
read more