AIS Water
07 3396 5222
.(JavaScript must be enabled to view this email address)
www.aiswater.com.au
51 Millennium Place
Tingalpa QLD 4173
Australia
About
AIS Water, the trading name of Australian Innovative Systems, is a multi-award winning, Australian owned leader in the design, production and supply of commercial and residential chlorine generators and water disinfection technology.
AIS Water conducts all research, development and manufacturing from its Brisbane headquarters and production facilities. The whole-of-product life cycle ensures optimum quality control, client service and after sales support.
AIS Water's vision is to ensure that the Earth's fixed supply of water remains clean and healthy, despite increased exposure to human impacts. Its mission is to create safe, economical and versatile products to protect humans and habitats against waterborne pathogens and infectious disease.
Who is AIS Water?
AIS Water is run by two directors, wife and husband team, Elena (Chief Executive) and Kerry Gosse (Managing Director). Elena (pictured below) is the 'face' of AISystems.
AIS Water employs over 60 staff in a range of roles including administration and management, micro-electronics, chemistry, power systems, electrical and mechanical engineering, water system design, assembly, metalworking and plumbing.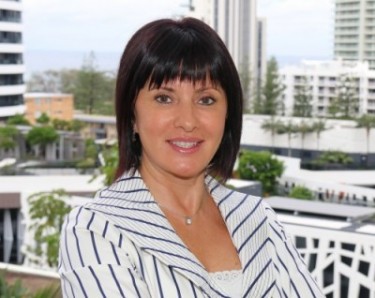 What is Elena Gosse's (Chief Executive of AISystems) background?
• Elena was born in Volgograd (former Stalingrad) in the USSR.
• In 1984 Elena graduated with a Bachelor of Musical Theatre (Ministry of Culture, Volgograd College of Arts/Volgograd P.A. Serebryakov State University of Arts, Russia), Elena worked as an artistic director and started a popular television show as scriptwriter, producer and host.
• In 1991 Elena started an entertainment company in Russia which employed 67 staff.
• In 1984 Elena married her first husband and had two daughters.
• In 1992 Elena separated from her husband and later that year met Kerry Gosse.
• In 1994 Elena and her daughters joined Kerry permanently in Brisbane.
• In 1995 Elena joined Australian Innovative Systems (AISystems) as company director and secretary.
• In 2004 Elena graduated with a Bachelor of Business QUT (Accounting).
• In 2005 Elena became Executive Director of AISystems.
• In 2007 Elena graduated from the Australian Institute of Company Directors.
• In 2012 Elena became Chief Executive of AISystems.
How long has AIS Water been in business for?
With 20+ years' industry experience and a reputation for continuous innovation, AISystems' remains one of Australia's most trusted companies.
Does AIS Water export?
AIS Water has exported its technology to over 55 countries.
How many products does AIS Water produce?
AIS Water's range of chlorine generators includes AutoChlor™, ChloroGen™, EcoLine™, MineralChlor™ with services include custom chlorination solutions, consulting and commissioning, installation and servicing.
Is AIS Water a successful business?
In the 22 years since acquiring AISystems, business has grown by 8000% ($100,000 to reaching $8m+ annual turnover).
How does AIS Water technology work?
AIS Water' chlorine generators produce chlorine using the minerals and salts already present in the water via the process of electrolysis - a tried and tested technology that has been in use for 180 years.
The electrolysis process produces chlorine automatically, onsite and inline (in the same machine) or onsite and offline (chlorine manufactured onsite but then stored in a tank which is part of the machine) which then eliminates the need for external supplies of chlorine delivery, storage and handling.
The electrolysis process works when an electrical current is passed between two electrodes through an electrolyte (water containing minerals like sodium chloride) inside an electrolytic cell.
Hydrogen ions move to the cathode and turn into hydrogen. Chloride ions move to the anode and turn into chlorine. Meanwhile sodium and hydroxide ions get left behind and stay in the solution.
This provides all the necessary ingredients for the automatic formation of Hypocholous Acid, an effective and proven water disinfectant (commonly known as liquid chlorine).
All of this occurs not only within the electrolytic cell but inside the water itself, so no toxic disinfectant needs to be stored on site.
What is the key benefit of using AIS Water technology?
AIS Water is committed to stopping the endless cycle of traditional chemical dosing in water facilities. This antiquated technology (which involves the manufacturing, transportation and storage of ever larger quantities of toxic chemicals) not only amounts to considerable expense and hassle over time, but brings many Occupational Health and Safety considerations.
Employing AIS Water technology puts a stop to the cycle and, through the process of electrolysis and inline or offline chlorination, disinfects water efficiently and safely on site, with minimal operator involvement and without the need for chemical deliveries.
How many and what kind of chlorinators are being used at the Gold Coast Aquatic Centre (GCAC)? Which pools have they been installed in?
AIS Water technology has been specified for three pools (one existing pool and two new pools) as part of the upgrade at the GCAC*. Two x AISystems AutoChlor systems and one x AIS Water EcoLine system have been specified.
• AIS WaterAutoChlor will be keeping the pool water safe and clean in:
o Existing Outdoor 25m Pool (25m long; 21m wide; 1.1m to 1.4m deep; 560,000 litres approx.)
o New Children's 10m Pool (10m long; 5m wide; 0.1 to 0.4m deep; 12,500 litres approx.)
• AIS Water EcoLine will be keeping the pool water safe and clean in:
o New Indoor 15m Pool (15m long; 10m wide; 1.1m deep; 165,000 litres approx.)
About AutoChlor: AutoChlor disinfects water at Total Dissolved Solids (TDS) levels from 2,500ppm – 35,000ppm (brackish to seawater – automatically adjusts to water of any salinity.) While the AutoChlor brand was first established in the 1970's as a leader in residential salt water disinfection, it was in 1995 that AISystems built its first, inline salt water system on a commercial scale. Millions of litres of water in home and municipal pools, aquatic centres, competitive swimming facilities, hotels, resorts and water theme parks now remain sparkling clean and healthy using AutoChlor™ technology.
About EcoLine: EcoLine disinfects water at Total Dissolved Solids (TDS) levels from 1,200ppm – 2,500ppm (works at levels of up to 75% lower than traditional salt water systems). This TDS level is often referred to as 'fresh water'. Historically, the many benefits of inline chlorine generation on a commercial scale were only available to saltwater facilities while electrolysis disinfection was only viable in water with a high mineral content (around 4,500ppm or more). In 2009, equipped with over 20 years of endless innovation, AISystems smashed the inline chlorination barrier with the launch of EcoLine making inline chlorination a possibility for many commercial facilities.
*NB: the three x pools which will feature AISystems' water disinfection systems are not the official competition swimming pools for competitor use during the Commonwealth Games. Due to GCAC budget restrictions these pools will unfortunately be disinfected via chlorine dosing. The AISystems system pools will no doubt still be utilised by competitive swimmers for training and of course by the general public (including children) during the lifespan of the GCAC.
What are AISystems' plans for the future?
AISystems' goal is to be the market leader in water disinfection and reach $40 million+ annual turnover by 2020. It will do so by expanding its production facilities in Brisbane to include a fourth manufacturing plant, growing its Australian marketshare in the municipal and leisure markets (competitive swimming pools, Aquatic Facilities, water theme parks, hotels and resort lagoons and pools), increasing distribution channels in Australia and export markets and continuing to invest in research and development and staff training.
Click here to view a YouTube video on AISystems technology.
Editor's note: Australasian Leisure Management refers to Australian Innovative Systems as AISystems rather AIS to avoid confusion with the other AIS - the Australian Institute of Sport.